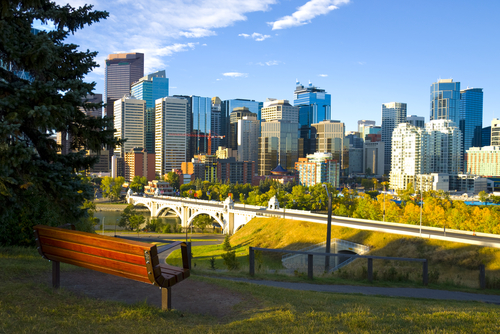 Calgarians on the hunt for opulent abodes are not rushing to snap up homes with $1 million-plus price tags, but the market for luxury dwellings appears to be stabilizing, according to a fall forecast by Sotheby's International Realty Canada.
Between July and August, well-heeled homebuyers snapped up 112 properties listed at over $1 million, roughly on par with the same period in 2016.
But while single family and attached homes worth seven figures or more remained relatively stable, Calgary's oversupplied luxury condominium market took a hit, with just two units selling for at least $1 million over the summer months, a third of the rate from last year.
Brad Henderson, president and CEO of Sotheby's International Realty Canada, said Calgary's gradual rebound from the economic swoon spurred by tanking oil prices remains a significant anchor to the luxury home market that was particularly bullish during the city's last boom.
"I think we're seeing a fundamental shift in the Calgary market right now," he said. "Buyers don't want to pay those old prices and sellers aren't racing to new price ranges, so there's a mismatch between the two.
"But I think what we'll see is a much better meeting of the minds between the buyers and the sellers."
The first half of 2017 was particularly optimistic, with a 24 per cent year-over-year increase in luxury home sales, and Henderson said he expects there will be marginally increased activity in the fall.
In other major Canadian markets, Montreal led the way in summer luxury sales with a 60 per cent surge compared to the same 2016 period. Vancouver saw a modest increase over the summer while Toronto's luxury real estate market ebbed in July and August after a sizzling start to the year.
According to Sotheby's, the Canadian luxury home market is seeing a resurgence thanks to a robust national economy, unemployment numbers levelling off, a strengthening Canadian dollar and a pair of modest hikes to the interest rate.
Henderson said following a tumultuous couple of years for Alberta's economy, a cautious confidence in the real estate market appears to be returning, and both homebuyers and sellers seem to be settling into the city's new reality.
"There's a general feeling a lot of that reset has occurred and this is the new normal," he said.
However, Henderson noted the main point of concern going forward will be the luxury condo market, which saw a glut of supply come on-stream just as Calgary's economy hit the skids.
"It really was a combination of supply and demand — one of the way developers were meeting demands in a tightly constrained market was by bringing on high-end multi-unit residential," he said.
"But a lot of that supply came on the market just as it was tailing off, and that has had a negative effect."
Despite the ebbing condo sales, the highest year-to-date sale in Calgary was a $6 million luxury suite in The River building in Mission last month, indicating that there's still a market for top-tier condominium properties.
Sotheby's International Realty Canada predicts Calgary's high-end real estate market will remain "volatile and fragmented" and sales in the fall will vary by neighbourhood, with bidding wars and rapid turnover expected in some cases.
Henderson said the market conditions will continue to maintain Calgary as a buyer's market at least until year's end.